Cap'n Mike's Full Moon Adventures LLC
Retired from a 40-year career in nonprofit association management, Captain Mike Krissoff is now a 50-ton U.S. Coast Guard Master who runs his custom-built 46-foot Chesapeake Bay deadrise out of Annapolis. He runs Cap'n Mike's Full Moon Adventures LLC for boutique Bay tours for up to six passengers and can also arrange bicycling or kayak/paddleboard adventures.
Cap'n Mike has a wealth of experience on the Bay. He started with a 12-foot wooden rowboat when he was 7, and has since spent many hours sailing Lasers, Hobie Cats, other one-design racing sailboats, and log canoes. A longtime member of Annapolis and Eastport Yacht Clubs (he is a past commodore of Eastport YC), he has also spent many days managing races for sailboats. His great energy of giving back was noted by the South River Federation, who has named him a Volunteer of the Year.
While all that time on the water brings knowledge and confidence, Cap'n Mike still makes sure to know what to expect when he leaves the dock.
"I'm on the water a lot and even though Full Moon is a big girl capable of just about anything the Bay dishes out, I don't like surprises," he said. "Whether I'm going out for fun with friends or entertaining guests, I like to know what I can expect from current conditions and projected weather. The CBIBS data gives me a good heads up of what the wave heights are, how hard the wind's blowing, and what I can expect as the day progresses."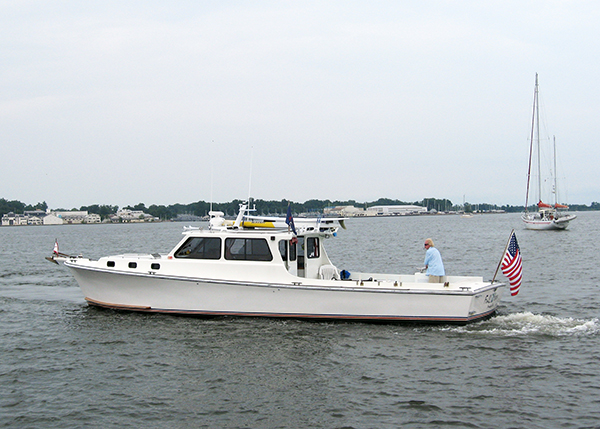 Full Moon is a very capable boat, but Cap'n Mike keeps an eagle eye on weather forecasts and conditions.
As on-the-go as he is, Cap'n Mike accesses CBIBS data primarily by mobile app, where he appreciates that the data is "quick to load, clean, and easy to understand." Most of his boating is in the middle part of the Chesapeake, so the Annapolis CBIBS buoy is the one he refers to the most.
"To me, wind and wave heights are the most useful data. Even after owning a powerboat for over 25 years, I still consider myself a sailor. Whether racing or cruising, wind direction and windspeed are important. In days gone by, sources used to forecast, say 5 to 10 knots, or 8 to 12, or 15 to 18. Now it seems all we get are broader ranges, most often 10 to 20," he noted.
"Well there's a big difference between 10 knots and 20 knots, especially when you factor in wave heights and current. 10 knots is pretty much a picnic on most small sailboats, but 20 knots can be a work-out, bordering on dangerous depending on the type of boat you're in. Using the [CBIBS] smart buoys to get a real-time picture is invaluable in deciding whether or not to go out, what type of gear to bring with you, and who you may want to have along as guests."
Cap'n Mike has noticed some changes out on the water this year. As more and more people seek ways to spend time out in nature and out on the Bay, boating can be a great option.
"It's been widely publicized that 2020 has been a record-breaking year for the boating industry, meaning there are loads of new and inexperienced boaters all over the Bay and our rivers. Many of these new boaters need to realize just how dangerous the bay can be or can become, and how quickly conditions can change. They may not understand that sometimes conditions might be a bit more than their new boat can handle safely. Trouble is, they're not the ones reading this and they're likely not the ones using the CBIBS data. They should. The value of having free, accurate, real-time conditions as close by as your phone is measurable. This app should be on every boater's predeparture checklist," he emphasized.
Cap'n Mike has crafted a life where his work life and his non-work life significantly overlap, and feature lots of time on the Bay. In addition to running Full Moon Adventures, he enjoys sailing, powerboating, kayaking, running sailboat races, and tending a log canoe.
"I look at the weather 10 times a day on a slow day, and CBIBS is a very reliable source."
Thanks for the shout-out, Cap'n Mike—we look forward to seeing you and your gorgeous Full Moon out on the water soon!