Early spring is a time of big changes on the Chesapeake Bay. One of the key indicators of the transition from winter to spring is water temperatures, which can warm rapidly, thanks in part to the sun's higher angle.
CBIBS buoys play an important role in monitoring changing conditions on the Bay because they track observations 24/7. This allows data users to develop statistically robust analyses of indicators. Because temperatures are reported hourly, a daily average water temperature can be determined by averaging each of the 24 measurements in one day.
This enables a reliable look at water temperature in contrast to simply looking at one instance of water temperature. For example, one "warm" water temperature reading taken on a warm, sunny afternoon—while accurate for that moment—might not be an accurate representation of water temperature for an entire month if the rest of the month had been cool and cloudy, or if—as is usually the case in spring—water temperatures are warming rapidly. The difference between looking at a one-time temperature measurement and exploring continuous data is much like comparing one still photograph to a video.
What do the CBIBS buoys and other continuous monitoring stations tell us about recent water temperatures? Based on data from CBIBS buoys, some of which were deployed before winter 2008-09, it was indeed a cold March.
To go back beyond 2008, scientists need to find other sources of data. The NOAA National Weather Service's sensor on the Thomas Point Lighthouse, which records water temperature hourly, is located near the Annapolis CBIBS buoy. Thomas Point observations track very closely with those from the Annapolis CBIBS buoy, and data records at Thomas Point go back to 1986.
Using robust data allows scientists to track how the temperature of a given day relates to that same day in years past. While it has warmed a bit in the last few days, the water temperature for April 3 (as described by the average of 24 hourly observations) was 44.2°F at Thomas Point (45.1°F at Annapolis CBIBS buoy)—the second-coldest April 3 recorded since 1986 (see graph, coming soon).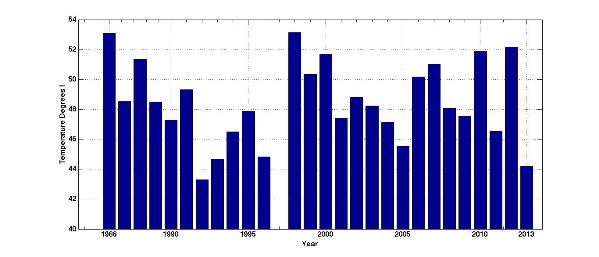 For the record, the average April 3 temperature since 1986 has been 48.5°F. The water temperature in 2012 was one of the warmest at 52.2°F. So both 2012 and 2013 have been rare events—opposite, nearly extreme values in the 29-year record occurred in consecutive years.
March is a time of rapid temperature increases. In 1993, the water temperature hit 33°F on March 15 and still was above 43°F by March 28. The average March temperature—the average of all 31 days' average temperatures as represented by the average of 24 hourly observations—for 2013 is cold (41.5°F) but only about a degree below the 1986-2013 average.
The January 2013 monthly mean temperature at Thomas Point Light was 40.2°F (the 1986-2013 mean was 38.1°F); February 2013 was 37.8°F (1986-2013 mean, 37.5°F). For the record, at least in the Annapolis area, the coldest (daily average) water temperature occurs around January 28 at 36.3°F; the warmest around August 2 (80.9°F). Up and down the Bay, the April 3 minimum temperatures at CBIBS buoys were:
Susquehanna, 46.9

°

F
Patapsco, 44.3

°

F
Annapolis, 44.1

°

F
Gooses Reef, 44.4

°

F
Potomac (Point Lookout), 44.7

°

F
Stingray Point, 46.5

°

F
First Landing, 46.2

°

F
It is beginning to warm up—track temperatures at the CBIBS buoy near you. These warming temperatures will affect living resources including blue crabs and rockfish in the coming weeks. Look for more information on that at this website soon!