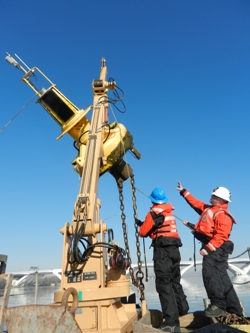 As water temperatures drop as winter approaches, the CBIBS field team readies the buoys for winter. Because large floes of ice can move buoys and because sheets of ice can damage sensitive sensors located just below the waterlines of CBIBS buoys, the three northernmost CBIBS buoys—Susquehanna, Patapsco, and Upper Potomac—are pulled each year.
The Upper Potomac buoy was pulled last week, thanks to the efforts of our partners with the U.S. Coast Guard Milford Haven's Aids to Navigation Team. The Coast Guard, from on board a buoy tender, pulled the CBIBS buoy and replaced it with a "placeholder" ice buoy. The ice buoy is designed to withstand freezing waters, and can even submerge under ice without being damaged.
The Susquehanna and Patapsco buoys will be pulled and replaced with ice buoys in early January. All three CBIBS buoys will be redeployed in spring 2012.