In partnership with the U.S. Coast Guard, the NOAA Chesapeake Bay Office's CBIBS team today completed a full-buoy replacement of the CBIBS First Landing buoy.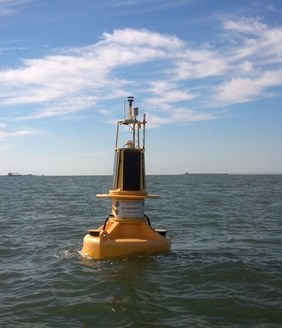 The buoy was also relocated roughly a quarter mile to the southwest of its previous location to a new location of 36° 58' 28" N, 76° 02' 44" W, near the eastern end of the Tail of the Horseshoe. This is north of Cape Henry and outside the Chesapeake Bay Bridge-Tunnel, on the ocean side of First and Second Islands—roughly 300 meters west of the red "2T" buoy. This small move was made to ensure that the buoy is away from the line of transit between offshore fishing grounds and ports near Virginia Beach and Norfolk. 
In addition to the new location, the "new" First Landing buoy includes:
An active radar reflector. This reflector, which amplifies and returns a stronger radar signal, will make it easier for vessels with radar to "see" the buoy, even at night and in fog.
A solid-state anemometer, which measures wind speed using sound waves. Previously, the anemometer at First Landing was a propeller-style anemometer that frequently encountered problems in extreme weather events, perhaps due to large waves crashing on the buoy. The CBIBS team anticipates the solid-state anemometer, with fewer "moving" parts, will perform more reliably. 
Real-time acoustic fish tag receiver, which will observe when tagged fish swim near the buoy. This will help researchers monitoring these fish for scientific reasons. This is the second such fish tag receiver in the CBIBS system; the first was deployed on the Jamestown CBIBS buoy.
Such swaps are part of routine maintenance for CBIBS buoys. Buoys that have been on station for a long time—usually a year or so—are brought back to an on-shore location so they can be fully cleaned and serviced, and all sensors receive detailed maintenance. This is in addition to more-frequent on-water servicing of component parts.