Congratulations to Doug Wilson, who was recently presented the American Meteorological Society's 2013 Francis W. Reichelderfer Award for his work from 2006 to 2012 that led to development and growth of the NOAA Chesapeake Bay Interpretive Buoy System.
The Reichelderfer Award is given in recognition of distinguished contributions to the provision of operational environmental services to the public. The award was presented to Wilson January 9, 2013, at the 93rd AMS Annual Meeting in Austin, Texas, by AMS President Dr. Louis Uccellini, who is also director of the NOAA National Weather Service's National Centers for Environmental Prediction.
Nominations for awards are accepted from AMS members, and are accompanied by letters of support. The value of CBIBS and the importance of Wilson's work to develop the system were supported by letters from the NOAA National Weather Service's Wakefield, Virginia, and Baltimore/Washington Weather Forecast Offices.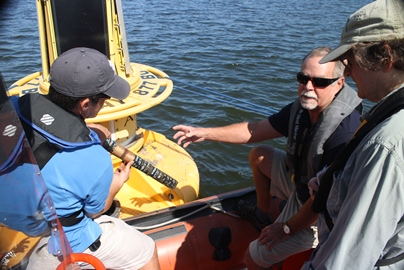 These offices underscored the importance of data from the ten CBIBS buoys by describing how they use CBIBS observations including wind speed and direction and wave measurements—CBIBS buoys provide the only wave measurements in the main stem of the Bay—to provide more detailed marine forecasts for their constituents. These improved marine forecasts, in turn, support commercial transportation, fishing, and recreational boating on the Chesapeake Bay.
CBIBS data also provide fundamental measurements needed to monitor the health of the Bay, through hourly tracking of parameters including dissolved oxygen, chlorophyll, and turbidity. Observations from the buoys are also used in educational settings, and buoys mark locations along the National Park Service's Captain John Smith Chesapeake National Historic Trail.
Wilson's work began in parallel with concepts for the John Smith Trail; he saw the potential for buoys to do more than simply mark the Trail. His expertise with similar systems enabled him to assemble off-the-shelf parts in a unique way, and to create a system to deliver data in near-real-time using wireless technology. Wilson's vision drove the way forward for a buoy system that today delivers information—including that real-time data but also featuring interpretive content about the buoys' locations—via web, smartphone apps, and toll-free phone number.
A NOAA oceanographer who retired from federal service in 2012, he continues to work with the NOAA Chesapeake Bay Office to support CBIBS management and operations. He also consults on other coastal and ocean observing system applications worldwide.