WRNR Marine Weather Reporter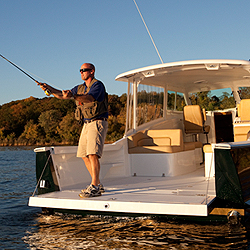 Tom Weaver is a boat builder and sailor who is the voice of the marine weather forecast on the Annapolis-based WRNR radio station (listen in at 8:45 a.m. at 103.1 FM).
Tom, a resident of the Eastport neighborhood in Annapolis, uses data—which he usually accesses via this website or on his smartphone—from the Annapolis CBIBS buoy daily for his marine weather forecast. When you hear "the water temperature at the NOAA buoy is," that's the Annapolis CBIBS buoy.
He also tracks CBIBS data for other purposes. "As I usually check the buoy daily, I also find it fun to keep an eye on the trends--dissolved oxygen in July, water temperature in December, and turbidity in the spring are all really cool features, particularly for fishermen," Tom said. He also checks to see what the "actual" current is doing compared to the prediction before he goes sailboat racing.
As is the case in many maritime neighborhoods, Eastport is home to many "dock dogs," including Tom's chocolate lab Coconut. "I don't let Coconut swim in the Bay when the water gets above 75 degrees and the dissolved oxygen is low," Tom noted, as Coconut seems to be prone to ear infections in those conditions, so checking water temperature and dissolved oxygen levels helps keep Coconut healthy.
We knew that boaters, scientists, and educators were using buoy data—but hadn't thought that animal lovers would be interested too!.