Chesapeake Bay Foundation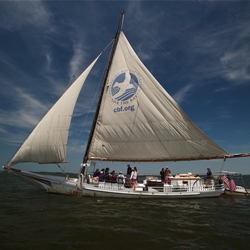 Paul Bayne is Skipjack Program Manager at the Chesapeake Bay Foundation—which means he spends a lot of time out on the water on board the Stanley Norman sharing information about the Chesapeake Bay with the next generation of Bay stewards.
"We primarily use the buoy system to teach kids about water quality in the Chesapeake Bay," Paul explains. "Among other equipment, we have a YSI 6600V2 Sonde, which measures the same parameter as the buoys. We often get our data on Hacketts or Tolly's oyster reef [off Annapolis] and then compare that to the CBIBS Annapolis buoy. Sometimes we'll have different groups of students pick another buoy in the bay and make a prediction as to how it will differ from our results."
Students aren't the only ones with whom Paul uses CBIBS data. Paul and his crew also show many teachers how to access buoy data. "That way they can get real time data anytime they need it; in the classroom or as part of homework. The bottom line for us is that we teach how the Bay works so that folks can understand the science behind the blueprint for saving the Bay."
From on board the Stanley Norman, Paul and the crew access CBIBS data mostly via mobile phones, whether by calling 877-BUOY-BAY or using an app. They also have a laptop on board they use to show students the graphing features. Most frequently, they use data from the Annapolis buoy as they sail past it nine out of ten days they are on the water. They also use the Susquehanna buoy because it tracks nitrates—one of the main parameters they talk about with students.
Paul first heard about CBIBS during the 2007 voyage of Sultana Projects' replica of Captain John Smith's shallop around the Bay—which coincided with the launching of the first CBIBS buoys. He emphasizes the importance of access to real-time data.
"Real-time access to data democratizes the science of the Bay. We no longer have to wait for a year-end analysis to see what happened in the water. At any moment, one can pull up information. I think there is large potential for small watershed groups that operate near the buoys. A full set of good water monitoring equipment costs thousands of dollars. Now, many local outfits can get data and put it out to their constituents and decision makers," Paul said.
Because he spends so much time on the water for work, Paul enjoys some terrestrial endeavors—like mountain biking and rock climbing—in his spare time. But recently, he has taken up fishing with his older son. Paul describes, "I'll make a quick check of dissolved oxygen and salinity levels and then check the wind as most of our fishing spots are right on the Severn."
The CBIBS team wishes Paul and his family happy fishing!
(Photo thanks to Bill Portlock)