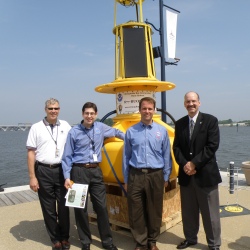 NOAA's National Weather Service Baltimore / Washington Weather Forecast Office, located in Sterling, Virginia, is responsible for warnings, advisories, and forecasts for the Maryland portion of the Chesapeake Bay and Tidal Potomac River.
Wind reports from the CBIBS network help marine weather forecasters to make decisions regarding hazards such as small craft advisories and gale warnings. Data from the buoys also provides information as to what actually happened on the waters, so they review how their forecasts performed.
The Baltimore/Washington team is also testing out a new model that forecasts wave heights over the waters. Wave data from the Patapsco, Gooses Reef, and Potomac buoys help them to compare what is actually happening on the waters to what the models are forecasting. This information will assist in improving these models, ultimately resulting in even better forecasts.
As a 24-hour, seven-day-a-week outfit, they continually monitor observations and frequently update marine forecasts. Because of this, forecasters always have their fingers on the pulse of what is occurring on the waters, so they constantly monitor data from the buoys.
Since we forecast for such a large area of the waters, they use of all the buoys – from the Upper Potomac buoy near National Harbor and the Susquehanna buoy at the top of the Bay all the way down to the Gooses Reef and Potomac buoys. In particular, the Gooses Reef buoy has been a huge asset to the office's operations. It is located right in the main channel of the Bay, not really close to the shore like some others. They have seen maximum wave heights as high as six and seven feet recorded there!
Data from CBIBS feeds directly into the National Weather Service processing system, so forecasters can easily see that data on a screen superimposed with other data such as airport observations, satellite imagery, and radar scans. But forecasters also at times display CBIBS data from the CBIBS website, especially to use the graphing function where you can see how winds and waves have changed over a period time, such as a day or a week, for any one site. The graphing function really shows how dynamic and changeable the conditions can be over the waters.
The Baltimore/Washington Weather Forecast Office encourages boaters to phone in their marine reports of winds, waves, and any adverse weather over the waters to their toll-free spotter number: 800-253-7091.