Educator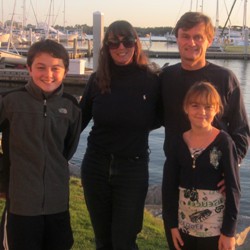 Julie Dashiell is a first-grade teacher at Norfolk Collegiate School in Norfolk, Virginia, and also is an adjunct instructor at Old Dominion University. She uses data from CBIBS buoys to help her students learn about science and the health of the Chesapeake Bay.
Last year, Julie took her students to the Elizabeth River Project's Learning Barge, where she was inspired to do something with her students that could help protect the Chesapeake Bay. Researching more about the Chesapeake Bay, she discovered the CBIBS website.
"I was impressed with the technology of the CBIBS and how much real-time data the buoy was able to disseminate to the public. I decided to create an environmental stewardship program for all of our Norfolk Collegiate School first graders that highlights the issues facing the Chesapeake Bay," Julie explains.
"Once a week, our first graders use Apple iPads and SMART boards to access the CBIBS buoy closest to Norfolk," Julie describes. "After graphing the water temperature, we compare that information with the air temperature. I ask questions such as 'Is the air warmer or colder than the temperature of the Bay?' 'How much colder or how much warmer?' 'Why is monitoring these data points important to helping the Bay?'"
The students are so engaged with CBIBS, they have even encouraged their families do some research together about how to take care of the Bay and how our decisions affect our environment.
"By monitoring CBIBS, my students are able to enhance their critical-thinking skills while having authentic opportunities to apply these skills. My students now want to write about the Chesapeake Bay, read books and articles on websites about the Chesapeake Bay, and more!" says Julie.
She is eagerly awaiting the release of Chesapeake Exploration, an online curriculum that will feature CBIBS data, slated for release later this fall. While Chesapeake Exploration lessons are geared for middle and high school students, Julie plans to adjust them so she can present them in an age-appropriate way for her students.
Julie, who has been in Norfolk for 16 years, loves to spend time with her family on the Chesapeake Bay. They enjoy boating, fishing, skiing, and more every chance they get. They check out CBIBS data every weekend before they take their boat out to monitor water temperature (to see if it's warm enough for their kids to go swimming), the wind chill/direction/gusts/speed, etc. They check out the data on their phone so they can make good decisions about when and where it's best to boat.