Surry Power Plant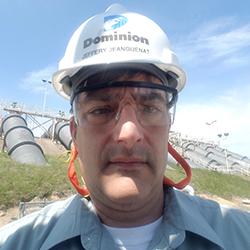 Jeff Jeanguenat is the cooling water engineer at the Surry Power Plant across the James River from Jamestown, Virginia. Surry is a nuclear power plant that provides electricity for 420,000 homes and businesses in southeastern Virginia. Nestled between the Chippokes State Park and Lawnes Creek adjacent to the Hog Island Wildlife Management Area on the James River, Surry Power Station has safely operated 24/7 over 365 days each and every year.
The Surry Power Plant is in a very special place on the James River. In addition to the humans who work there, Surry sees a variety of animals including herons, bald eagles, pelicans, sea turtles, dolphins, and even the occasional manatee or sturgeon.
Jeff and his team use water from the James River to provide cooling to the power plant, ensuring safe operations.
"Every drop of water the plant withdraws is returned to the river. No water is wasted or consumed by the plant. At Surry Power Station, our production, and the safety of the nuclear reactor, depends on the James River. For this reason, it is important that plant operators and engineers know the temperatures, water quality, and tidal behaviors of the river at all times," Jeff describes.
The team uses data from sources including the Jamestown CBIBS buoy. The information from the CBIBS supplements the plant's own meteorological towers and intake monitoring stations. In addition, plant personnel can look at buoys both upstream closer to Richmond and downstream closer to the Chesapeake Bay to forecast water quality changes and water level changes well before they reach the plant intakes. That gives operators time to adjust operations as needed to keep the plant running smoothly.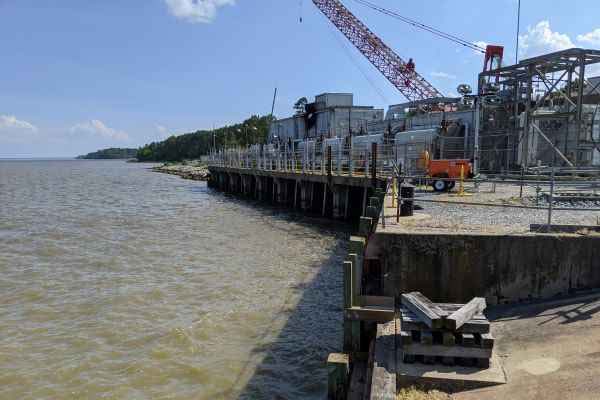 Surry Power Plant's location means that cooling water from the James River is important for safe operations—and that in turn, the Surry Power Plant prioritizes use of that water that considers living resources in the James River.
While the Jamestown buoy is often pulled over the winter to avoid potential damage from ice, when the buoy is in the water, "the data is accurate, reliable, and easy to view on the NOAA web pages," Jeff notes.
Did you know that power plants are active stewards of the land and water near them? As Jeff describes, the team at Surry Power Plant uses data from the buoys, especially temperatures, salinity, and turbidity, to track the life cycles of critters who live in the James River: "These parameters help the plant staff to predict the seasons for the flora and fauna that flourish near the plant. Having this data available allows operators to adjust intake flow rates to protect creatures such as oysters and hydroids."
Having knowledge and data from the CBIBS Jamestown buoy allows the plant to operate continuously and efficiently to produce carbon-free electricity.