Annapolis Maritime Museum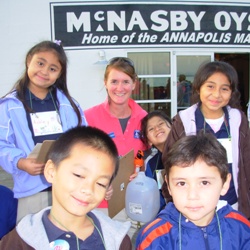 Charlotte Rich is director of education at the Annapolis Maritime Museum, which is located just across the Eastport peninsula from the NOAA Chesapeake Bay Office's headquarters in Annapolis, Maryland.
In addition to providing visitors a look into Annapolis's maritime heritage, the Annapolis Maritime Museum runs a robust student education program. From the museum, one can—with binoculars—see the CBIBS Annapolis buoy.
Proximity to the buoy makes using CBIBS in the Annapolis Maritime Museum's educational program a natural fit, as it provides a tangible link for students to see what real-time conditions are in their Chesapeake Bay. At the museum, students get a complete STEM (science, technology, engineering, and math) learning experience centered on buoys and the scientific information they collect. They explore water-quality data from the buoys and later design, build, and test their very own buoys.
"We have expressed concepts of how the buoys monitor water quality of the Bay, water temperature, clarity, dissolved oxygen, and salinity through presentations; as part of the NOAA Build-a-Buoy lessons; and the buoy-based STEM lessons within the eighth-grade 'Chesapeake Stewards' program," said Charlotte, shown here with students from Annapolis's Tyler Heights Elementary School at the Annapolis Maritime Museum during the Chesapeake Champions afterschool program. They also plan to have students interpret data from the buoys taken during and after Hurricane Irene in the future.
The Museum accesses CBIBS data on the CBIBS website, iPhone app, and via the 877-BUOY-BAY toll-free number. Students learn that they can use these tools to track what's going on in the Bay, too.
"Using CBIBS data provides students opportunities to work collaboratively in a team, build interpersonal skills, and use science, technology, engineering, and math to extend their content knowledge of the Chesapeake Bay, water quality, runoff, human impacts on the natural resources of the Bay, ways scientists monitor water quality, water safety, how to interpret data, create an action plan, stewardship and sustainability," Charlotte listed, "just to name a few."
When she started working with the Annapolis Maritime Museum in 2009, Charlotte already knew about CBIBS as well as the NOAA Chesapeake Bay Office-developed Build-a-Buoy activity that introduces students to observational buoys. She knew she wanted to incorporate them into existing and new education programs at the Museum.
Charlotte uses CBIBS data when she's off the job, too: "I do enjoy water-based sports like sailing, kayaking, wake boarding, and swimming in the Severn and Magothy Rivers and the Chesapeake Bay. Using the CBIBS data provides me with real-time information about the conditions on the water in these areas."