The remnants of Hurricane Ida passed through the Chesapeake Bay watershed on September 1, bringing record rainfall amounts and even tornadoes to parts of the mid-Atlantic. Pennsylvania and New York saw tremendous amounts of rain, leading to heavy flows in the Susquehanna River.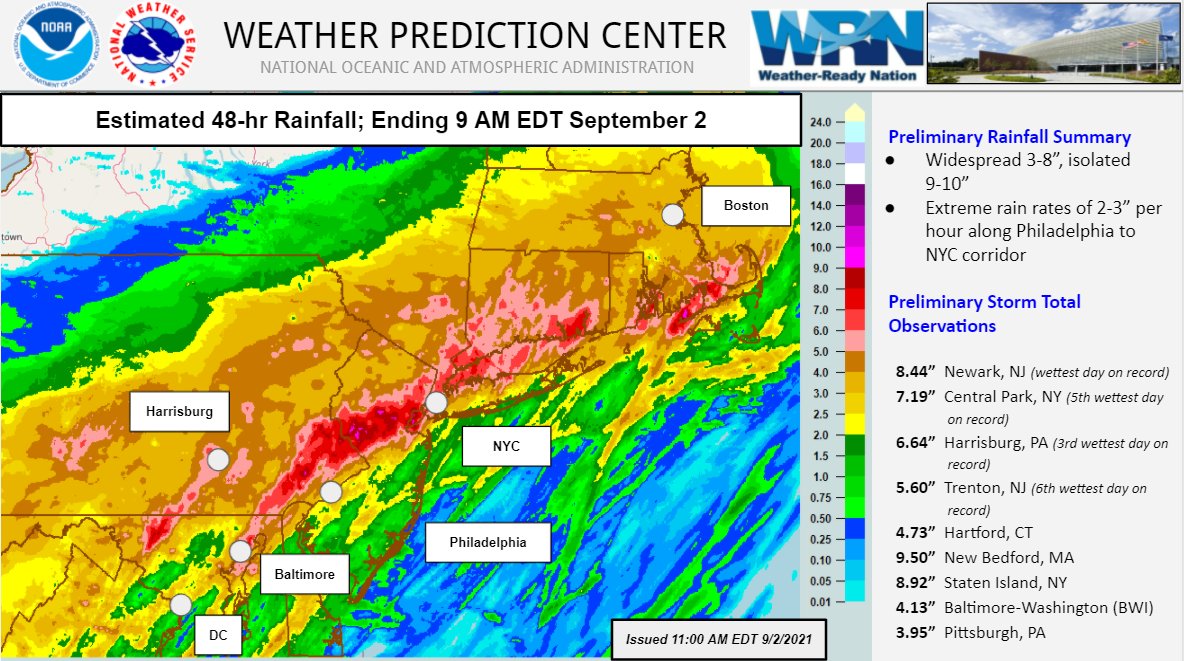 The Susquehanna River provides roughly 40% of the freshwater riverine flow into the Chesapeake Bay. About 10 miles above the river's mouth, the Conowingo Dam holds back water to generate electricity at a hydroelectric generating station. But when the river gets so swollen from rainfall, dam operators need to open extra flood gates to relieve pressure on the dam. At one point on September 2, 16 flood gates were open, allowing sediment and potentially larger debris (such as tree limbs) to flow into the Chesapeake. 
NOAA satellites and buoys detected the additional sediment flow into the Bay. NOAA's CoastWatch East Coast Regional Node compiled the images below, which show total suspended matter in the Bay (left to right) before Ida passed through the area; September 2, a day of flow well above average from the Susquehanna River; and September 6, when sediment was starting to settle to the bottom from the surface, not reaching much past the mouth of the Bush River. 
Of note, the Susquehanna Flats at the northern end of the Bay, where there are impressive beds of underwater grasses, seem quite resilient. They show lower turbidity before Ida than surrounding areas, and are clearly visible on the September 2 image, indicating their ability to filter sediment from the water. 
Salinity levels were also affected. The CBIBS buoy team was out on the water on September 3, installing a water-quality sensor that tracks parameters including salinity. The graph below highlights how salinity levels fell September 3 and 4 as rainfall from up in the Bay's watershed entered the system. 
Annapolis - Water Salinity (PSU)
For comparison, in September 2011, following rainfall from the remnants of Tropical Storms Irene and Lee, 44 flood gates were opened, and a significant sediment plume made it down the Bay to roughly the Maryland/Virginia border. And in July 2018, a series of torrential downpours led to an opening of all 53 flood gates.
While Ida did create higher-than-average flow that led to a small sediment plume, the plume from this event is subsiding. Scientists and resource managers will continue to monitor storm effects to better understand ecosystem impacts from events like Ida.