Saturday, April 20, 5:01 a.m.: It's a date and time many Chesapeake-area anglers have had written in pen on their calendars for a long time. That marks the start of the spring trophy striped bass (rockfish) season in Maryland, when anglers can target one 28-inch or greater fish per day through May 15. A similar season runs May 1-June 15 in Virginia's Chesapeake Bay waters; minimum size there is 32 inches.
Some rockfish (Morone saxatilis) can be found year-round in the Chesapeake Bay, but most spend their winters in warmer waters off Virginia and North Carolina. Each spring these migratory striped bass return to the Chesapeake to spawning grounds in the Bay's tributaries. Once they have spawned, they swim back down and out of the Bay and head north for cooler waters along the Atlantic coast and join the rest of the "coastal stock" of striped bass. Among other factors, water temperature plays a large role in the timing of this migration and helping these fish select their habitat—where they choose to spend their time—as they move through the year.
Spring trophy rockfish seasons often happen when a majority of the spawning striped bass are on their way out of the Bay. In some years, a colder winter can delay their arrival to the Bay, as they wait for the waters to warm for prime spawning conditions. This seems to have been the case in 2011, as anglers delighted in a longer spring trophy season. But the following spring, after a warmer-than-usual winter 2011-12, many fish had left the Bay shortly after the season opened, making for challenging fishing for Bay anglers.
The graphs below show water temperatures as tracked at the Annapolis CBIBS buoy from the winters preceding these fishing seasons. Note how much more time the waters at the Annapolis buoy spent below 40 degrees in winter 2010-11 than in winter 2011-12.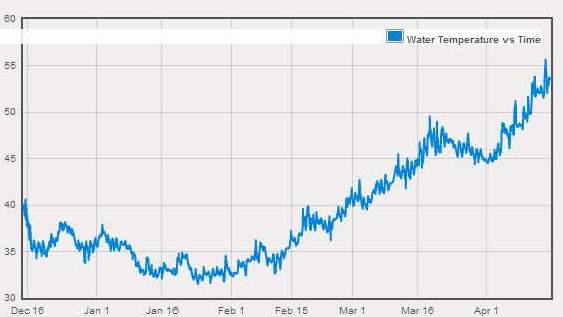 Water temperatures at the Annapolis CBIBS buoy, December 15, 2010-April 15, 2011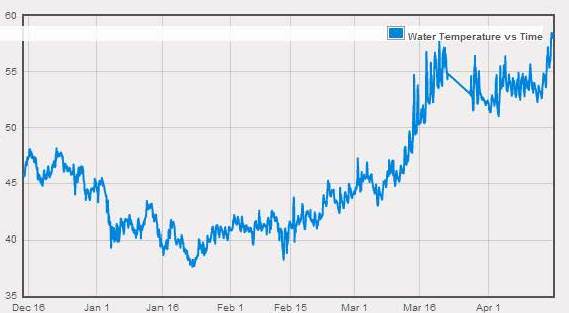 Water temperatures at the Annapolis CBIBS buoy, December 15, 2011-April 15, 2012
What does the 2013 spring season hold? The 2012-13 winter was a bit of a mixed bag: While the early part of winter was relatively warm, water temperatures dropped quickly in mid-January and haven't recovered very quickly. But a warm week of April 8 supported a rebound of water temperatures.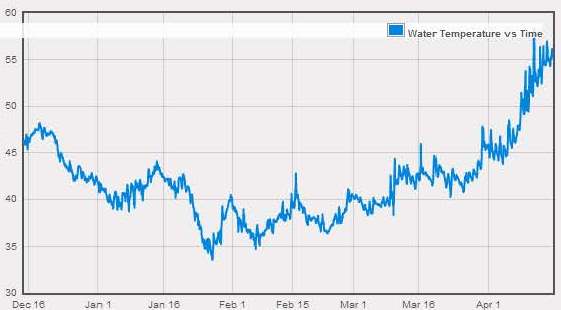 Water temperatures at the Annapolis CBIBS buoy, December 15, 2012-April 15, 2013
Will cooler recent temperatures support a productive spring trophy season for anglers? Time will tell, but tracking water temperatures at CBIBS buoys up and down the Bay will certainly help fishermen as they plan their days on the water and track how things variables like winter water temperatures can affect their fishing.