The frozen waters the Chesapeake Bay saw in early 2015 have long since melted, but CBIBS buoy technicians continue their work to minimize problems CBIBS buoys may encounter due to icing in future winters. 
"The Chesapeake Bay Interpretive Buoy System and the Winter of 2015: Problems and Solutions" was the focus of a presentation delivered by CBIBS experts at the recent Oceans 2015 conference held at National Harbor, Maryland—coincidentally overlooking the Upper Potomac CBIBS buoy.
The presentation gave a quick overview of the CBIBS system and the rare weather conditions and systems that teamed up in February 2015 to disable much of the CBIBS system.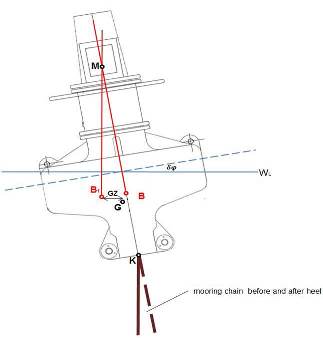 Over the spring and summer, in pockets of time between fixing damaged buoys and performing routine maintenance on other buoys, the CBIBS buoy team explored the reasons and the physics behind the problems that the buoys encountered. Their presentation highlighted their findings:
Buoy "capsizes" were caused due to wind-driven icing rather than waves; the icing accumulated on the top portion of the buoy.
Removing the buoy "skirt," which is used by the buoy team to make servicing the buoy easier, could help diminish the risk of capsize due to icing (less surface area).
The buoys are well-designed to deal with splashes, but are not submergible; water intrusion caused significant damage to the buoys' internal parts. 
Operational plans for preparing for winter will incorporate lessons learned—both from on-the-water experience in 2015, and from the copious research and analysis the buoy team has explored since then.
For more information on the research presented at Oceans 15, contact Katie Kirk.