A frigid Arctic air mass has brought dangerous, and in some cases life-threatening, low temperatures and wind chills to much of the central and eastern United States. Wind chill advisories and warnings were in effect on January 7 for much of the eastern two-thirds of the nation, noting possible wind chill values as low as -50F in some locations.
The Chesapeake Bay watershed will not experience the worst effects of this "polar vortex," but people all around the Bay still need to bundle up—hats and gloves are key—if they need to head outside, as the area faces record or near-record low temperatures and dangerous wind chills. The January 7 low temperature record was broken at Baltimore/Washington International Thurgood Marshall Airport with a reading of 3 degrees F—five degrees lower than the previous record. Many school systems cancelled school or implemented delays to spare students from waiting outside at bus stops from potential frostbite. 
Air that is colder than water will act to lower water temperatures. How will this cold snap affect water temperatures and the Bay's fish, crabs, and other species that live in the water? 
Air temperatures fluctuate more quickly than do water temperatures, so while air temperatures may have plummeted, water temperatures are slower to respond. This, at least to some extent, may "insulate" Bay water residents to the initial effects of the cold air mass. But sustained cold temperatures would continue to drive water temperatures down, which could have notable outcomes, like the fish kill observed in December 2010.
Water temperatures over the past week at the Annapolis CBIBS buoy illustrate that water temperatures change more slowly than do air temperatures. While the first graph tracks air temperature at that location that dropped from 50 degrees F at 6 a.m. on Monday, January 6, to 7 degrees at 8 a.m. on Tuesday, January 7—a 43 degree drop, the second shows that water temperature was just over 38 degrees at 6 a.m. on January 6 and then rose to just over 39 degrees at 4 p.m. that afternoon before bottoming out at just under 37 degrees at 8 a.m. on January 7—all within roughly 2 degrees.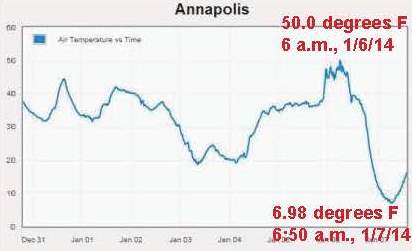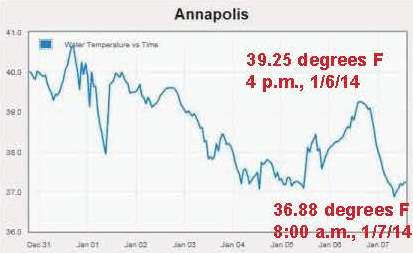 Since the Annapolis CBIBS buoy was first deployed in 2009, the average water temperature there on January 7 has been 37.7 degrees—very close to today's readings. On average, water temperatures at the Annapolis location will continue to drop slowly until they bottom out around 36 degrees in late January. This graph shows daily mean (black), daily maximum average (red), daily minimum (blue) for the Annapolis CBIBS buoy since 2009, as well as hourly observations from this year (green). 

All CBIBS buoys track water temperature, so you can monitor how water temperatures up and down the Bay respond to this burst of Arctic air using the CBIBS graphing tool, via CBIBS mobile apps, or by calling toll-free 877-BUOY-BAY. 
NOAA weather forecasts for the Bay area show temperatures moderating starting mid-week, so while a drop in water temperature is expected, it will not likely be a precipitous drop. Visit CBIBS on Facebook and let us know what conditions are like near you.